I hadn't picked this up until I was reading further on the topic today, but did you realize the proposed constitutional measure which proposes to inflict a "jungle primary" on South Dakota does not require candidates to accurately reflect their voter registration on the actual ballot?
I not only had to do a double-take, but I had to read it three times to make sure I wasn't failing to pick it up.  According to the Attorney General's final statement on the proposed constitutional amendment..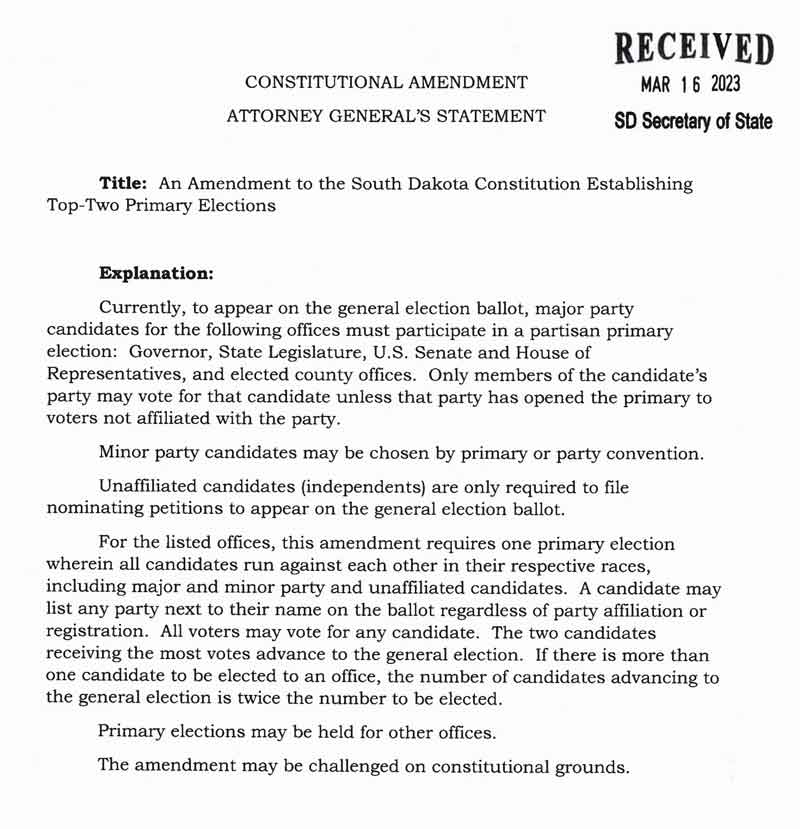 According to the Attorney General's explanation "A candidate may list any party next to their name on the ballot regardless of party affiliation or registration."  And if you go into the actual language of the measure itself, it contains this passage..

Literally, as hinted at by the AG's statement, the very language of the measure is little more than a thinly veiled attack on all political parties in the state, because it takes away any meaning of the concept of a political party organization.
Libertarians? Forget third party status, because they'll be gone. Democrats? They're going to mean less than they do now. It will be great for Republicans, because in red-state South Dakota, literally everyone will run as a Republican. The big question will be how will people affiliate once they are elected, because if this passes, the designation on the ballot may have no relation to the political affiliation they claimed to run under.
I'm not sure why they feel they have to eliminate registering with a party to run as a party's candidate. It's not a high bar to affiliate with a political party currently. Just a trip to the courthouse.
I'm probably dating myself, as well as the age of many of my kids when I point out this reference, but I'm reminded of the evil plan of the villain in the Disney movie "The Incredibles."  The original one, not the sequel. The villain's evil plot to be foiled by the heroes was, in a nutshell, was to make superheroes widespread by selling his technology to render "real" superheroes common.
As the villain monologued in the movie "Everyone" can be super! And when everyone's super… no one will be.."
That's shockingly parallel to the exact thing this ballot measure proposes to do in red-state South Dakota. To make all candidates Republican.
Because when everyone is a Republican… then no one will be.