In my years of involvement with the South Dakota GOP, I've been to a LOT of Lincoln Day dinners, and I've even been part of putting a few on. The purpose of a Lincoln Day Dinner is to serve as an annual celebration of the Republican Party, as well as a fundraising event for the GOP and Republican Party affiliated organizations at the county level, such as Teenage Republicans, Republican Women, Young Republicans, etc.
Sometimes the events can be as dry as hotel chicken, other times they can be raucous and lively affairs, where everyone leaves pumping their fists.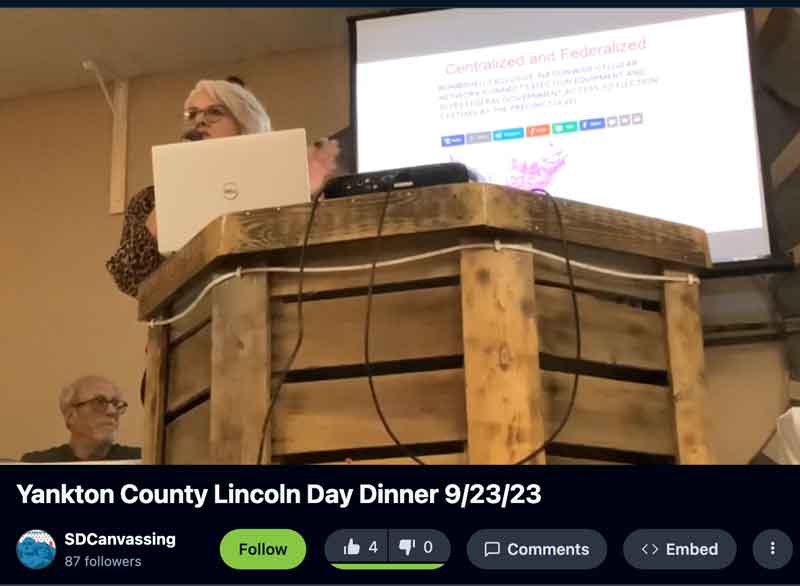 I bring this up, as I just caught that the Yankton County Republican Party just held their dinner this last weekend. And I did an absolute double-take when I caught wind of the program for their event.
Someone thought it would be a great way to thank volunteers and raise money for the Republican Party by force-feeding them a fully 45-minute power-point presentation on election conspiracies, complete with slide after slide of paranoia from the SD Canvassing Group. Which is definitely NOT a Republican organization.
Oh. My. God.
I'd ask whether they understand that the goal of a political party organization is to get their candidates elected. But, I think I can answer my own question myself.
Because it seems their goals are more aligned with doing everything but winning elections. As evidenced by what the Yankton County GOP is spending their money on.
For example, remember the complaints that the incoming Yankton County Republican group had where the outgoing Yankton GOP leadership group had about $12,000 they used to form an independent Political Action Committee to support candidates? Considering that the new group's idea of getting people elected is pillow-guy paranoia, I tend to think the outgoing group was very prescient in moving to make sure the funds are going to be used to support candidates, because it looks like the new group is busy spending money on a fool's errand:
On Dec. 7, Butch Becker, the outgoing treasurer, used these assets to write a check for $12,000 to the District 18 Republican Political Action Committee, an organization formed one week earlier by three now-former members of the Yankton County GOP's executive board: Becker, Vice Chair Roger Meyer and State Committeeman Greg Adamson.

and..

Meyer further added that the legally defined scope of the PAC is to support Republican candidates, meaning the money will not be used to "go on vacation" or other superfluous activities.
And as I dig into the story.. it gets a little goofier.
YanktonGOP1_1 by Pat Powers on Scribd
Here is the initial small claims filing for the lawsuit, where they attempted to represent themselves in their demand for the $12k spent by the previous board. Where they go into a LOT of whining about holding an improper meeting, and found themselves unrecognized at the Central Committee after they held an improper meeting. And then they complained about the previous board's expenditure.
Best part was Roger Meyer's reply: "Please submit future threats to the former Yankton County GOP executive committee as a group. Thank you."
But it gets better. After they attempted to move the action forward in small claims court, the former Yankton County GOP executive committee threw a curveball back at them.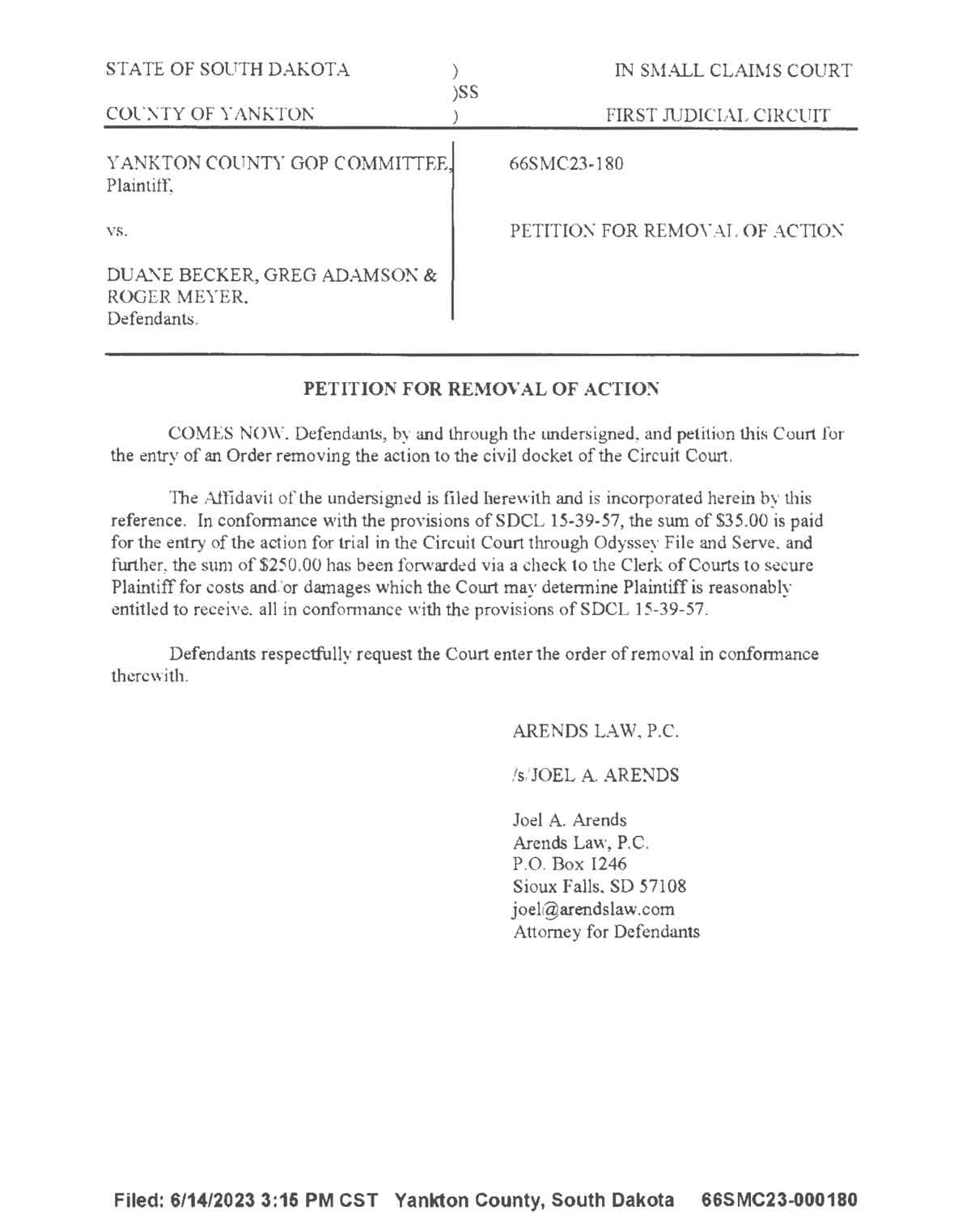 The defendants hired Joel Arends, and petitioned for the matter to be moved to Circuit Court. So now this former small claims action that they spent $56.28 on filing was set to get much more expensive.
However, they tried to keep costs down at first, by just handling things themselves, things like scheduling hearings, and demanding a judge's recusal. Which didn't get by the defendants, as they filed another motion in the matter.
YanktonGOP1_2 by Pat Powers on Scribd
A "Motion to require plaintiff to obtain counsel or in the alternative to prohibit members of the organization from representing plaintiff in these proseedings and brief in support of said motion" was filed. Which laid out that Laura Kotiliak of the new Yankton County GOP group was apparently being accused of representing the group in court. That was filed at the end of August.
Since then, it appears that the Yankton County GOP group has gone out and hired an attorney. Daniel Glinert. … er, no, I hadn't heard of him either, certainly not when it comes to South Dakota campaign finance and election law. According to Glinert's website, his practice areas are focused on "Estate Planning, Florida Probate Law, & Tax Planning and Compliance."
In the most recent filing in this case, which comes from Glinert..
YanktonGOP1_3 by Pat Powers on Scribd
The response to the prior filing notes that they want to change their name in the suit. Yes, they now have an attorney. And they want to add more people to the lawsuit, whether those people are known or not, as they want to add "John Doe" and "Jane Doe."
The next status hearing in this case is set for a week from Friday on October 6th at 01:00 PM.
So, the Yankton County GOP group (the new one, not the old one), so far has hired an attorney with no visible experience in South Dakota election/campaign finance law who in all likelihood is charging them by the hour to fight a battle which most political observers who have been around a while believe is going nowhere, since political parties in South Dakota forming a PAC and funding it is not uncommon, nor illegal.
Just because the new group didn't like it, until they held the reins of the party, it wasn't their call. But as it sits now, it looks like they're ready to spend quite a bit to prove their point.
We'll see how much they spend on winning elections in comparison.