Now that EVERYONE IN THE STATE SENATE with the exception of one voted for her censure, Julie Frye-Mueller is apparently unrepentant, and taking no responsibility for her actions. As she has just issued a statement to that effect, and claiming that "the language contained in the staff person's statement was shocking and filthy and is not what I said."
Unfortunately for Frye-Mueller, nobody but her seat mate believed her.
And in her statement, she brings up a new bill that has been introduced which would prevent her husband, whom she has given unheard of authority for a legislative spouse, to be a lobbyist at the same time:
SENATOR FRYE-MUELLER ISSUES STATEMENT ON REINSTATEMENT

Rapid City, SD (January 27, 2023) – Today, the South Dakota Senate reinstated Senator Julie Frye-Mueller, with a public ensure and restricting her interactions with the Legislative Research Council. In response, Senator Julie Frye-Mueller has issued the following statement:

"I am thankful to rightfully return to the South Dakota Senate to represent the citizens of District 30.  The action of this body in suspending the Rules of the Senate to immediately suspend a member WITHOUT DUE PROCESS on an accusation alone without evidence is simply unjust.  The consequence of these actions were to silence the voices of over 25,000 people.  Now deadlines for some legislative action have passed without any obvious remedy.

If lawmakers can silence me without any due process and by ignoring the law, or suspending the rules and laws we instituted, why do we make such laws? Their failure to respond to my continued requests clearly appears to be an orchestrated attempt to obstruct my ability to defend myself and is politically motivated.  We were given only 27 hours to even know what was being claimed and to coordinate legal counsel and witnesses.

As I said in my sworn testimony, the language contained in the staff person's statement was shocking and filthy and is not what I said or conveyed.  That aspect of the conversation was entirely fabricated.  The permanent damage done to my reputation and that of my family is a stain that will not go away.

The actions of these Senators will likely serve as a deterrent to anyone who might consider public service.  In fact, I understand that there is already a Bill (SB 197) being submitted as, what appears to be, additional retribution.  When will the attacks end?

Finally, the actions of the Senate are absolutely unprecedented.  However, I will do all that I can to continue to be an advocate for District 30 and the people of South Dakota.  I am grateful for the tremendous outpouring of support for me and my family in the midst of this attack.  God bless you all."
The bill, Senate Bill 197, reads as follows: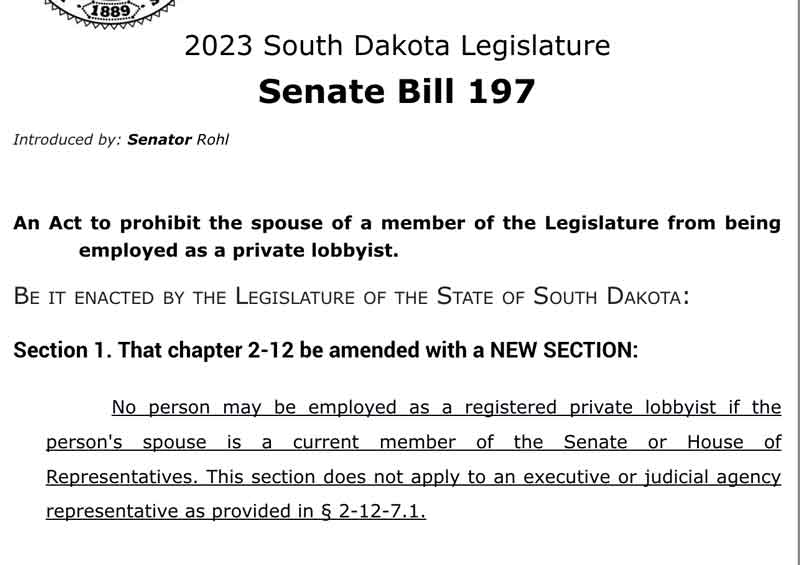 As I had noted last night, as part of her and her husband's testimony,
It came up that Frye-Mueller's husband is not just up as session as her spouse, but he's a registered lobbyist for Citizens for Liberty. AND they admitted under oath that he is a designated contact for Frye-Mueller on her legislative matters with LRC. How exactly does his status as her legislative contact and a lobbyist for Citizens for Liberty work?

Haugaard attempted to walk that back by noting Mueller is "an unpaid lobbyist." But why would that matter?  From his wife's request, he has more access to LRC than any other spouse, and practically more access to LRC than any other Lobbyist.

There's no wall between Mueller's liaison and lobbyist roles.
As I'd noted, what has become apparent is that there is literally no wall between her husband handling her legislation and being a private lobbyist for Citizens for Liberty. If there ever was one.
Little wonder she has ranked at the highest levels of their scorecard, and in 2018 had actually put in a bill to directly benefit Citizens for Liberty:
The measure was an attempt to pass legislation allowing use of the Legislative Research Council to do the dirty work of groups such as the Citizens for Liberty, who were strongly involved in the measure, because they want research help to assist in attacking legislators.

"This is a positive step toward more open government," Frye-Mueller said. She asked House members to "lift the roadblock" that prohibits the Legislative Research Council from putting together voting records by lawmaker.

"The data can be organized by any relevant statistic," Weaver said. "Most people just want to know how does their legislator vote."

and..

Weaver said she was willing to accept a report after each legislative session.

Rep. Larry Rhoden, R-Union Center, picked apart Weaver's group. The committee chairman said a scorecard assembled in the past by Weaver was "extremely distorted."

and..

"I will tell you this: I chose the bills," Weaver said. She considered perspectives from some lobbyists and from her board.

Mickelson again urged defeat."To this point, our legislative research staff has been nonpartisan. That is very important to the impartiality they bring to the work they do for all of us," Mickelson said. "There's a lot of judgment compiling a voting record."

and..

Rhoden said it was easy to track his record. "And it continues to get easier," he said.

Rhoden added that he was "extremely, extremely disappointed" by the Weaver group's attempt to reach "a predetermined outcome."

So, the spouse of the President of the conservative Citizens for Liberty group (Rep. Julie Frye-Mueller), and Tonchi Weaver, the 'project director' for Citizens for Liberty, want a law commanding the state Legislative Research Council to do their research?
If Julie thinks it's a measure directed at punishing her, she should probably take a hard look.
Because it's less related to punishment, and more about how uncomfortably close the association actually is.