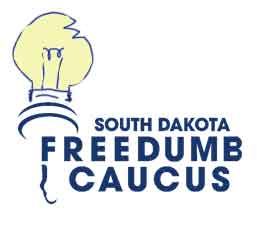 The "Free-dumb Caucus" strikes again.  I know I'm dumber for having read it, but it did generate mirth this afternoon.
So, I was sent the semi-anonymous release from the Free-Dumb Caucus this afternoon, whining about the Austin Goss charges, and how he pled them down to disorderly conduct.
State Representative Tina Mulally's name is the point of contact on the release, but no one would apparently lay claim to actually saying the words, as the statement lays out it's anonymous griping about the whole situation. It reads in part..
The South Dakota Freedom Caucus issued a statement after former reporter Austin Goss pled guilty to a charge of disorderly conduct, for a private, prank call made to Republican party Chairman Dan Lederman last year.

…

South Dakota investigative journalist Austin Goss was forced to plead down to a Class 2 misdemeanor of disorderly conduct for a private, prank phone call to former Republican party Chairman Dan Lederman last year, after numerous investigative reports into the Noem administration, the Republican party and other powerful players in the state.
and yadda, yadda, yadda.
Now, here's the part that's completely laughable.
First off, it's very courageous how they bravely brought up the rear. But they probably should have given it a bit more thought.
The part where they complain that Goss was charged with violating a law, which was pled down to disorderly conduct? Two of the three members of the Free-dumb caucus were sponsors of the bill that created the crime.
As always, don't take my word for it. Read for yourself..

Under sponsors of the measure, we have Tina Mulally and Tony Randolph who signed their name to the bill as sponsors prohibiting forms of caller identification manipulation, and imposing a penalty therefor.
So, they were against people spoofing caller id, and now they're for it?
Because that's what they're complaining about.  Unless it's the selective enforcement of laws that they're looking for.
Hopefully they'll figure that out before they're inflicted on the legislature this next session.
If they don't like the law, repeal it. If they don't like who was charged, create a "friends of Tina & Tony" criminal exemption.
Absent that, they might want to think the next time they decide to chirp about a law they themselves sponsored as being unjust.