I've had a couple of people send me facebook posts of those trying to make a mountain over an anthill and work themselves up into a kerfuffle because they don't understand the fee structure for the State Republican Convention.  So, just by way of explanation, here's some information to help alleviate the confusion.
The convention is taking place across three days, June 23 (Thursday), June 24th (Friday) and June 25th (Saturday).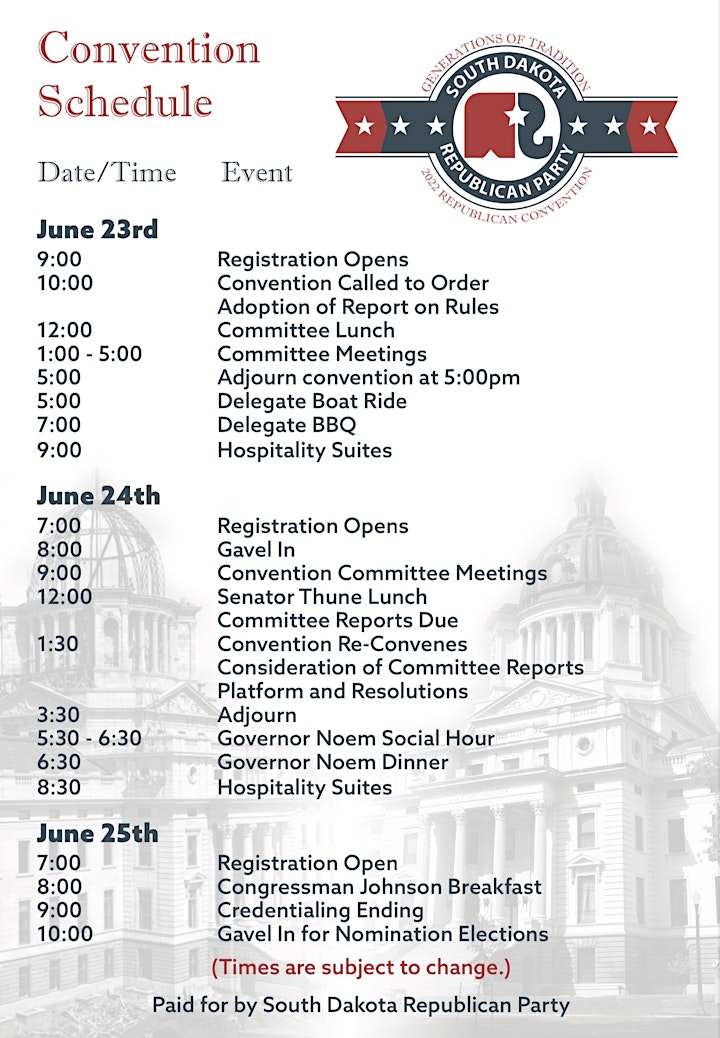 For those wishing to participate in convention Thursday the 23rd and Friday the 24th, there is a $150 Delegate fee for convention, as well as a couple of the less formal meals. This covers delegate access to the convention on Thursday and Friday, as well as the Thursday night BBQ w/ Governor Noem & Republican National Committee Chairwoman Ronna McDaniel and the Saturday Grab and Go Boxed Lunch at Convention.
Originally, the fee was necessary for the Friday Night Hospitality Suites Access, but as I understand, the exec board decided to revisit that decision, and they won't be kicking people out if they haven't paid the $150 fee.
Why is there a $150 fee? This should not come as a shock, unless someone has amnesia or Alzheimers, as this is no different than was done in 2018. (They might have skipped the fee for the 2020 COVID virtual convention). This years' convention expenses are in excess of $50,000, and literally all other states as well as the national GOP have a convention fee.  So, for those who are participating in Thursday and Friday meetings and activities, yes, the fee is part of that.
Is the fee necessary to attend on Saturday only when they nominate and elect candidates? No.  There is a $1 fee to register early for Saturday floor access, which is mainly to keep out the people who were trying to spam the registration system.  Are you going to get turned away if you are a delegate and you don't pre-register and you just show up on Saturday?  No. Is there a good chance you'll be standing in line while they look you up, and verify you as a delegate? Yes.
Do you have to be a delegate to attend? Actually no. You can register and attend as a guest of a delegate.  Say, you're a legislator or a legislative candidate, and you just want to watch the show?  Just get ahold of someone who is a delegate, and ask to be a guest, and pay the fees.
If you haven't done so yet, and you are eligible to attend as a delegate, You can register here.  If you're going to take part, I would encourage you to support the party.  They've put a tremendous amount of effort into it, and the funds raised from it go into supporting Republican Candidates and GOP activities which benefit all Republicans.
Any questions, put them in the comment section, and I'll try to answer them as I have an opportunity.