Johnson Named to Select Committee on China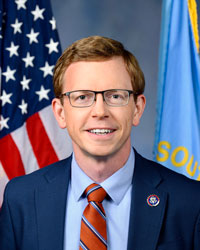 Washington, D.C. – Today, U.S. Representative Dusty Johnson (R-S.D.) was named to the Select Committee on the Strategic Competition Between the United States and the Chinese Communist Party, more commonly referred to as the "Select Committee on China."
"We need to address the threats posed by China to our food security and national security,"said Johnson. "I've been a leader limiting China's control over our technology, specifically TikTok, and prohibiting the CCP's purchase of American farmland and ag businesses. This Committee will play a critical role in mitigating the CCP's influence in the U.S. and establishing policies to increase our national security. I'm grateful to Speaker McCarthy and Chairman Gallagher for appointing me to the Select Committee – I am ready to get to work."
The Select Committee will work on restoring supply chains and ending critical economic dependencies on China; strengthening our military; ending the CCP's access to Americans' personal data and intellectual property; and contrasting the CCP's techno-totalitarian state with the values of the Free World.
Johnson has been actively opposed to China's influence and control over our farmland, food,supply chains, and Americans' personal and private data, as well as their authoritarian regime actions opposing personal freedoms.
Learn more about the Select Committee on the Strategic Competition Between the United States and the Chinese Communist Party here.
###