South Dakota drew the blueprint for standing up to Communist China:

-Reject Communist lockdowns
-Ban TikTok for government devices
-Block China from state contracts
-Protect our ag land

States must follow this blueprint. Watch my speech to @A1Policy: https://t.co/27DG9CcJWm pic.twitter.com/uwYy33hVx9

— Kristi Noem (@KristiNoem) February 15, 2023
Hi everyone, thank you for the opportunity to be with you here today. My name is Kristi Noem, and I'm the Governor of SOUTH Dakota. For those of you who don't know the difference between South and North Dakota – North Dakota has a lot of oil; South Dakota has Mount Rushmore. And I like to think we got the better part of that deal.
When you think of South Dakota, you might think about rolling fields of corn and soybeans and hills full of cattle. You might think of the gorgeous Black Hills or Mount Rushmore – and if you can't picture them right now in your mind, then you need to come visit us.
In a lot of ways, that carved mountain is a symbol of American Freedom. It presents the faces of four leaders that fought for and expanded our nation's founding ideal of the inalienable rights to Life, Liberty, and the Pursuit of Happiness. President Washington fought a war to secure those ideals. President Jefferson famously wrote them down. President Teddy Roosevelt is my favorite president – an adventurer who sent our Navy around the world to show how strong that Freedom had made us. And President Lincoln fought to deliver Freedom for every single American.
I am proud that South Dakota is home to such a beacon of Freedom. And in the last three years, we have become a symbol of Freedom for another reason entirely. And now, we are setting an example by drawing the blueprint for a state-led response to the Chinese Communist Party.
We first drew that blueprint in South Dakota's response to the COVID pandemic. We expanded on it by starting a movement to ban TikTok for government devices. And we will add to that blueprint by blocking the Chinese Communist Party from buying South Dakota ag land, participating in state contracts, or infiltrating our telecommunications.
When you think about our state, you probably don't think about the Chinese Communist Party. And that's a good thing – we don't want evil foreign governments for our neighbors. We don't want nations that hate us to be part of our way of life.
Make no mistake – the Chinese Communist Party is trying to infiltrate every aspect of our way of life. We have a President and an administration here in Washington that has no interest in stopping them.
Just this month, a Chinese spy balloon spent days hovering over the American homeland. What did President Biden do? He lied to the American people that the economy is strong. He attended a Democrat National Committee rally. He did NOTHING to stop the Chinese spy aircraft until it had already crossed our nation from west to east. And then, he wanted a pat on the back for finally shooting it down. But when the time came to deliver his State of the Union Address – when he had the attention of the entire nation and the whole world – he waited 58 minutes to even mention China and the threat they are to our country.
Folks, it is clear that the President of the United States is not going to take action to keep our nation safe. Governors have to step up and take the lead. That is exactly what we are doing in South Dakota, and that is what I am here to talk to you about today.
South Dakota has stood up to the threat posed by Communist China in three major ways: in our response to the COVID-19 pandemic; in our action to block Chinese companies like TikTok from doing business with South Dakota; and in our effort to block Chinese purchases of South Dakota ag land. This is the blueprint for the nation: More Freedom, Less China.
America needs to come first – and that means more than just prioritizing ourselves when we make decisions. It means prioritizing America's foundational truths and fundamental rights. America's most foundational truth is Freedom – our experiment in self-government.
Our Freedom is antithetical to the ruling Chinese Communist regime. Their people no longer even have the freedom to elect their own leader. They know only power – government power. China's goal is very simple: they want to dominate the world. It has been China's goal for generations, and it is within their reach. But to achieve world power, they will have to take down the United States of America.
In pursuit of this goal, they have manipulated their currency for years. They have stolen American intellectual property. They have treated us unfairly in trade agreements, bought up our debt, and purchased our food supply chains. They have dramatically increased the strength of their own military. And they have begun an aggressive campaign to win nations across the globe to their cause.
China unleashed the COVID-19 virus on the world. They manipulated the situation to their own benefit. They lied about the virus and their response to it. And they used trusted international organizations to give legitimacy to their lies.
The Chinese Communist Party not only exported the COVID virus to the world – they exported totalitarian lockdowns as seemingly the only means of fighting it. Country after country, state after state, nearly every government locked down because they were told they had no other choice.
South Dakota made another choice.
In many ways, I did what every other Governor did. I studied the science, the facts, the data that we had. I was on conference calls with other Governors, with epidemiologists, with medical experts to learn everything that I could.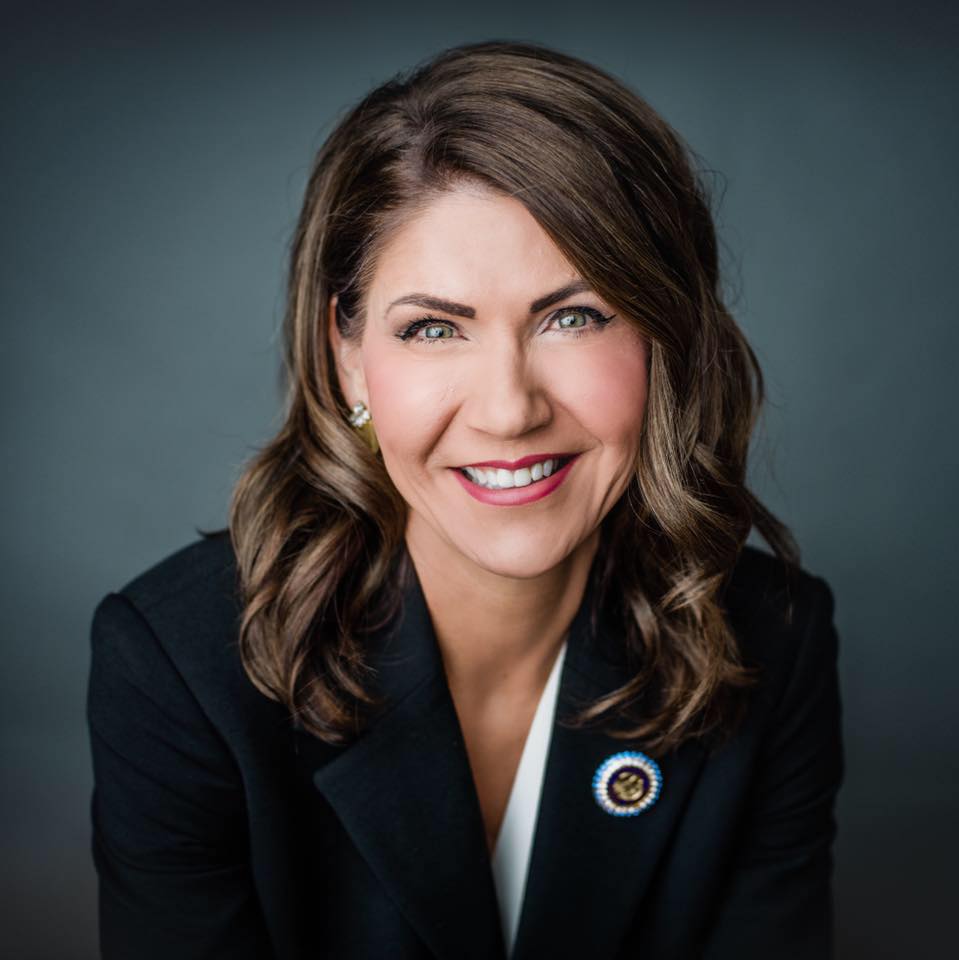 But then I took it a step further – I talked to my general counsel and constitutional lawyers. I wanted to know what my authority was and what it wasn't. Because I believe that when a leader oversteps their authority, that is when we lose this country. I did not have the authority to issue mandates or lockdowns. South Dakota respected the Constitution. We respected the foundation and liberty that our nation was built on. We respected Freedom.
We trusted our people to exercise personal responsibility to make the best decisions for themselves and their families. I did not lock my people down or mandate anything. In fact, we were the only state in the country who never ordered a single business or church to close. I never even defined what an "essential" or "nonessential" business was – because I don't believe Governors have the authority to tell someone that their business isn't essential.
The results speak for themselves. We came out of the pandemic with the strongest economy in America, the fastest growing incomes in the country, and the fastest growth in new housing developments. Today, our population is growing 5 times faster than the national average. Remember, South Dakota doesn't have beaches or beautiful Januarys to recruit people to our state. But we have Freedom. And people picked up their lives and came. We're breaking records for tourism year after year because we told our story. And our state revenues are so strong that this year, I'm ready to deliver the largest tax cut in state history for my people.
We did not follow the Communist model. We did not use the pandemic as an excuse to grow our state's power. And when other states saw that our example worked, they unwound their lockdowns and declared themselves "Open for Business," too.
How long would it have taken for our nation to recover from the pandemic if we had not had South Dakota's example? How long would we have continued to cripple our economy if states did not slowly start to realize that there was another path? Thankfully, we'll never know the answer to that question. And for that reason, America has retained our economic edge over Communist China.
Truly, at the time, I didn't believe that South Dakota's choices would be unique. I didn't anticipate that we would be setting an example for the nation. I definitely didn't realize that we would be contrasted so dramatically with Communist China. But that's exactly what happened because of the actions we took. Our state, our country, and our world are better off.
COVID-19 wasn't the only thing that China exported in early 2020. In fact, in the first quarter of 2020, TikTok broke the record for most downloads in a 3-month period. 315 million users worldwide downloaded this app between January and March. And TikTok has consistently remained the most downloaded app in the world ever since.
Let's face it – Americans got bored when the lockdowns came. TikTok made them laugh. And that's a good thing – right?
Wrong.
TikTok's worldwide users have nearly doubled since 2020. And here's the problem – every single phone that downloads the app is essentially a new spy device for the Chinese Communist Party. They use it to gather data on the American people. They're manipulating algorithms to control us. They have the ability to track our keystrokes and study us and gather our financial information. It is potentially the greatest cybersecurity threat that our nation has ever faced.
South Dakota put a stop to it.
This past November, just after Thanksgiving, I signed an Executive Order to ban TikTok for state government. We decided that South Dakota would have no part in the intelligence gathering operations of the Chinese Communist Party. The order took effect immediately. It prohibited state employees, agencies, and contractors from downloading or using the TikTok app or visiting the website on state-owned or state-leased devices – and it made it a criminal offense if they did.
As a state, we hold the secure personal data of the citizens of South Dakota in our agencies and departments. Because of our duty to protect that information, we had to take this decisive action. I hoped that other states would follow our lead and that Congress would take action, too. I was thankful for how quickly the nation followed our leadership. Now – just a couple months later, nearly 30 states have taken action against TikTok, and Congress has banned it for US government devices. Republican and Democrat governors followed South Dakota's lead.
South Dakota drew the blueprint. We took one of China's largest spying tools off the table. And we made countless Americans aware of the threat of TikTok in the process. States are following our lead.
And we're not done there. TikTok is not the only Chinese company that poses a threat to our national security. Other telecommunications companies can present a similar threat to our data security. And frankly, we should not be sending taxpayer dollars to nations that hate us. So this past month, we took further action to protect South Dakota taxpayers from Communist China.
I signed an Executive Order banning state government from conducting business with 6 evil foreign governments, including China. The order bans state government from doing business with certain telecommunications companies associated with these governments. And it also blocks state contracts with companies owned, influenced, or affiliated with these countries. And it doesn't stop at China – this order also bans state business with Iran, North Korea, Russia, Cuba, and Venezuela.
South Dakota is setting the example for how to fight China, but the next part of the blueprint may be the most important yet. We need to protect America's food supply from the growing influence of the Chinese Communist Party. And we need other states to follow our example, too.
I have been involved in growing America's food for my entire life. When I was a young girl, I worked on our farm and ranch with my family. We raised livestock, grew crops, and we fed the world. That's what our farmers do – they feed the world. And they do it better than anyone else.
My dad was killed in an accident on our farm when I was still attending college. He was only 49 years old at the time. And it devastated us and turned our whole lives upside down. He was our leader. And suddenly, he was gone. But then, we got a letter in the mail from the IRS saying that our family owed death taxes. And it made me angry. I could not believe that the IRS would take a tragedy and use it to threaten to take away our family business.
So I got involved. I started showing up at farm policy meetings and became passionate about tax policy. I went to meetings of our congressional delegation. I served on farm policy boards. In 2006, I ran for the state legislature, where I served for four years, including as Assistant Majority Leader. And then I was asked to run for Congress. The entire time, I was working on ag and tax policy to make it easier for our farmers to make a living off the land they loved and feed the world.
During that time, I have consistently been ringing the alarm bell about what the Chinese Communist Party is doing. For years, they've been buying up our chemical companies and fertilizer companies. They've been purchasing our food processing companies – in fact, they now own the largest pork production facility in my state. Today, they're trying to buy up our land.
The Chinese Communist Party knows that if they control our food supply, then they will control us. Just look at how difficult it has been to find food at times since the COVID pandemic. Imagine if the Chinese Communists decided to intentionally disrupt that food supply. Imagine the damage they could do – the fear parents would feel if they couldn't feed their children – the control they would have over the US. They will be able to do it if we don't take action to stop them. This is a national security issue.
Between 2010 and 2020, the Chinese Communist Party's holdings of US agricultural land increased by 5,300%. They now own more than 350,000 acres of US ag land valued at almost $2 billion. That ag land could be farmed by about 800 American family farms.
We know exactly what the Chinese Communist Party wants with our land – they want control. Last year, they purchased land in NORTH Dakota that they claimed was for a corn processing plant. But there were two details about this purchase that raised suspicions. One – there wasn't enough corn around to support that kind of a facility. And two – it was just a few miles from a US Air Force base where a substantial capacity of our drone technology and weapons are housed.
In the past couple of weeks, the Assistant Secretary of the Air Force wrote a letter stating that "the project presents a significant threat to national security." The mayor of Grand Forks and the city council, who previously supported this facility, are now blocking construction of the project. And the Governor of North Dakota and other elected leaders have spoken out, as well.
That's good news – but we can't wait for more of this to happen before we take action. We need to put processes in place to stop these projects before they begin. The federal board that is supposed to block these kinds of purchase is claiming that their hands are tied. They are refusing to act.
In South Dakota, we are very proud of Ellsworth Air Force Base. Its significance to our nation's defense is incredible. It's critical to our national defense platform, and it's a terrific benefit to our state's economy. And it will now be the first home of the brand-new B-21 bomber, which will keep our nation safe for years to come. This base is important to our country because of many things – but its location is key. It's near key training airspace. It's landlocked – it isn't on the coast – which makes it less prone to surveillance from enemy subs, ships, and other threats. Because it is located so far north, it can defend us from attacks over the North Pole. And the area isn't highly populated, which makes it easier to detect unusual activity.
But the Chinese government wants intelligence on that bomber – you better believe they do. And the one way for them to get it would be to buy land near Ellsworth Air Force Base and conduct surveillance on activities and operations there.
Not on my watch.
This legislative session, I am working with state legislators to pass a bill to block the Chinese Communists and other countries that hate us from purchasing ag land in South Dakota.
The bill creates a Committee on Foreign Investment in the United States – South Dakota at the state level. We will rely on ag experts, national and state security experts, and legal counsel to review any purchases, leases, and transfers of South Dakota ag land. If these purchases are made by a foreign person, company, or entity, they will make a recommendation to me – or to the next governor – whether the purchase should be approved. And if the purchase comes from a nation that hates America and wants to destroy us, then I can stop it from going forward.
Other states across the country are planning to take action, too. We have already seen similar bills and executive orders in states like Texas, Florida, and Virginia. They are watching South Dakota and how we lead. And if we fail here, that will have a negative domino effect across the nation.
The America First Policy Institute realizes how important this is. Two weeks ago, Steve Yates and Adam Savit from AFPI came to South Dakota to help educate legislators why this bill is so important. They explained the countless ways that China is threatening our American way of life.
South Dakota is taking a stand against Communist China. But it will take more than just governors to step up and keep our nation safe. We need a united people and a strong country to protect this last best hope for our children & grandchildren.
South Dakota's state motto is: "Under God, the People Rule." But that could just as easily be an American motto. In America, we are not – and we will not be – ruled by an elite class of so-called experts. We the People are the government.
In South Dakota, the people elected me, someone who was once just a farm kid, to lead them as our state's CEO. I raised my hand and swore an oath to uphold the Constitution of the United States and the Constitution of the State of South Dakota. I upheld that oath and defended the Freedom of all South Dakotans. And when I stood for reelection, they gave me more votes than any other candidate for governor in our state's proud history.
I can't thank the people of South Dakota enough for the faith they have put in me. But I can get up every day and work – focus on them – and I will. I will defend their Freedom. I will use the authority I have granted to me by the US Constitution and the South Dakota Constitution to stop Communist lockdowns from taking hold in South Dakota. I will protect my people from the Chinese Communist Party spying on their phones. I will work to stop nations that hate us from purchasing our ag land. I will continue to advance the blueprint of a state-led response to the Chinese Communist threat.
That is my commitment to the great people of South Dakota. And that is my commitment to each of you in this room today.
We do not have a President in the White House who is willing to make a similar commitment. We do not have a Commander in Chief who is willing to stand up to the greatest external threat that our nation faces.
But the 50 states retain their sovereignty. If President Biden will not stand up for the Freedom and security of my people, you better believe that I will. I will continue to put South Dakota first and America first. And I hope other states will continue to follow that lead.
Thank you. God bless the work that you're doing. God bless the United States of America.