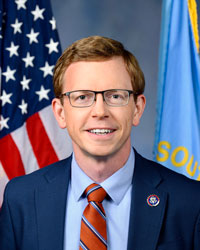 A Deal on the Debt?
By Rep. Dusty Johnson
May 26, 2023
As the debt limit "X-date" of June 1 becomes closer and closer, House Republicans have been standing firm on our requests to address our two crises—out-of-control government spending and a debt limit deadline.
Limit Government Spending – We want to cap government spending at the levels we were operating under in 2022, just 5 months ago. From there, spending growth would be allowed at 1% annually over the next ten years. This would save $3.2 trillion over the next ten years.
Save Taxpayer Dollars – Our plan reclaims unspent COVID funds, repeals tax credits from the far left's "Green New Deal," and stops President Biden's unconstitutional student loan giveaway. Your tax dollars should be used in an effective manner.
Grow the Economy – By enforcing existing work requirements for welfare program benefits, preventing costly actions by the executive branch, and cutting unnecessary red tape for American energy projects, the Limit, Save, Grow plan incentivizes investment in our own economy. By growing our GDP, we will rely less on your taxpayer dollars to dig us out of debt.
The White House had been unwilling to negotiate with House Republicans for 97 days. Once talks between President Biden and Speaker McCarthy began, the White House seemed unwilling to cut federal spending and was insistent on raising taxes for hardworking Americans like you. Under the burden of historic inflation, many Americans don't have room in their budgets to afford higher taxes, too. House Republicans refuse to raise taxes on everyday Americans to meet the demands of the Left's reckless and irresponsible spending from the past two years.
House Republicans have vowed to not raise taxes, not cut funding for veterans' programs, and protect Social Security and Medicare. We're committed to a reasonable, responsible, and sensible deal on the debt limit.
It seems we're getting closer to a deal each day, and I hope the White House can agree that we have to address the spending problem in this country. Spending more money is not the answer, and most of America agrees.
The clock is ticking, and I hope President Biden will negotiate in good faith. We cannot default on our debts.
###