Had been looking for info on the Minnehaha County Lincoln Day Dinner this past Sunday, and was making some calls for intel. What I was able to find that they ended up with maybe around 200 people there.
What would have been a good turnout for far smaller counties ended up being just so-so or less for Minnehaha, our state's largest county, which in the past had been able to fill the Sioux Falls Convention Center.  I remember going to one such event in the Arena that was mind-boggling in scale, and it was literally impossible to greet all the Republicans gathered. Businessmen and women, elected officials, conservatives, every flavor of Republican across the spectrum as far as your eyes could see had gathered for a great event, and to support the party.
Nowadays, as you see from a picture from the Turner County Republicans, as they attended the Minnehaha event and caught a snapshot of quite a few empty and partially filled tables: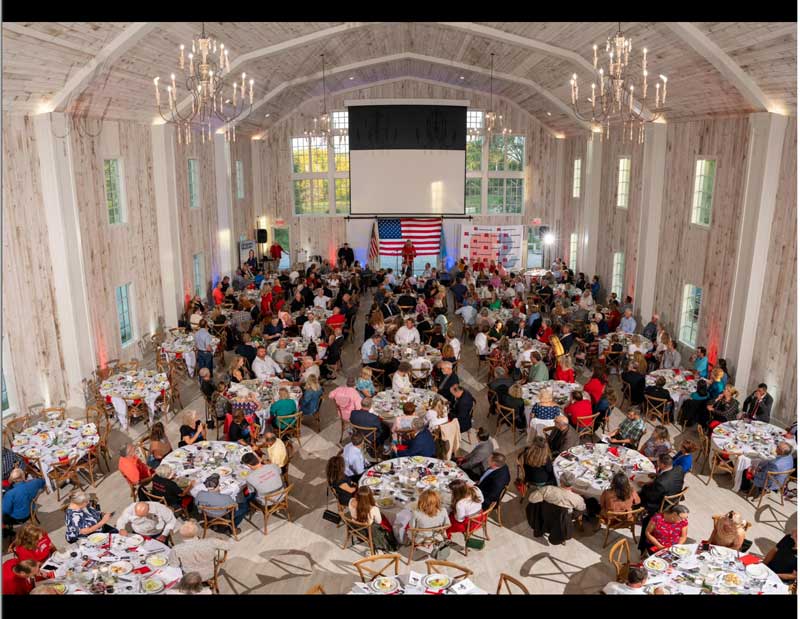 That is not a big venue.. and that's a lot of empty seats for a county of 200,000, with another 80-90,000 people immediately adjacent. They couldn't get any more Republicans to buy tickets, even out of the officeholders and their family members? Why?
That might be the big question to ponder, because from the reports I'm hearing the Minnehaha County Central Committee may have, at least in part, done it to themselves.
As the story has been related to me, 2 weeks ago on September 16th, the Minnehaha County Central Committee met for their regular meeting: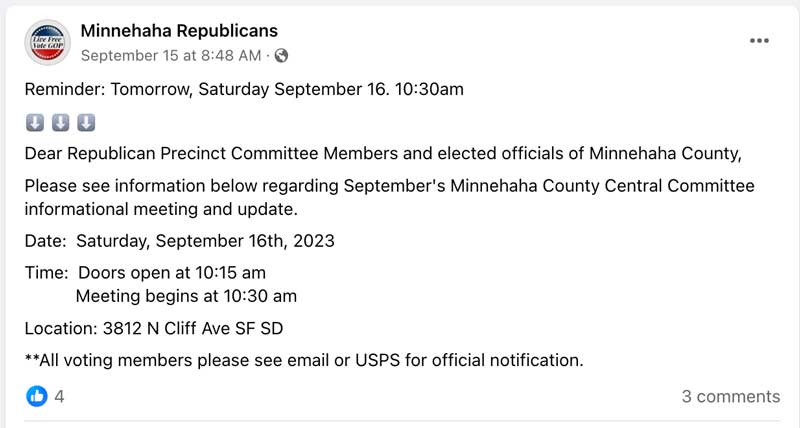 What I'm hearing was that there was a bit of railing by the Minnehaha Chair, former attorney Shawn Townow, against the State GOP. Which does not come as a shock, considering his boycott of the mega-successful (MAGA successful?) State GOP's Trump event the week before.
Tornow hating on the State GOP must have been a fun serving of sour grapes to start people's day with.  But as the Central Committee meeting progressed and got through the agenda, here's where it gets really interesting.
The report I'm hearing is that after the chair called for new business, State Senator Jack Kolbeck got up and was trying to bring a measure – or at least a promise – that the Minnehaha County Republican Party would not spend money on or get involved in primary elections.  Certainly, current legislators don't want to get into helping the party to run against them.   So what happened next?  I'm told that Tornow dropped the hammer on the Senator, ruling Kolbecks' motion out of order. And then the meeting was quickly adjourned.   Basically, BOOM, and done, and we're not going to talk about this any further. 
I guess that was one way to deal with it. But, word quickly spread among Sioux Falls area legislators that there are no promises that cash they raise for the county isn't going to go against their interest in the next election.  Which at least one legislator tells me directly influenced their decision to sit this and any future Minnehaha County GOP fundraisers out.   Because, why would they put money into an organization which is out there committed to give them the boot?
The state of détente which kept the Minnehaha County GOP functional seems to be out the door, as the leaders of that group won't even pretend to play nice with some of the people chosen by the voters to represent them in their various offices. Leaving a person to notice that the latest event for the largest county in the state was faring about as well as counties who send kids to the State B Basketball tournament. In other words, Minnehaha was vastly underperforming in relation to their size.
The Minnehaha GOP's party disunity is not going to help them function as an organization as we move into 2024.
And as they're finding out, it may just mean that people are going to take their checkbooks elsewhere.