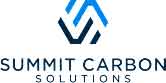 Summit Carbon Solutions Partners with Midwest Landowners to Sign Easement Agreements surpassing 60% of the Project Route   
In total, the company has partnered with 2,500 landowners who have signed 4,000 easement agreements 
Voluntary easement agreements account for 1,250 total miles of the project route across Iowa, Minnesota, Nebraska, South Dakota, and North Dakota 
AMES, Iowa (February 9, 2023) – Summit Carbon Solutions reached another major milestone this week as landowners across the Midwest have voluntarily signed easement agreements accounting for more than 60% of the proposed pipeline route project-wide. Across the five states in the company's project footprint – Iowa, Minnesota, Nebraska, South Dakota and North Dakota – Summit Carbon Solutions has signed 4,000 total agreements with landowners, or 1,250 total miles of right-of-way secured.
"Landowners across the Midwest are embracing Summit Carbon Solutions because they know it will bolster the ethanol industry long-term, drive growth in our ag economy, and strengthen land values and commodity prices," said Summit Carbon Solutions' CEO Lee Blank. "The Summit team along with our 33 ethanol and sustainable aviation plant partners are tremendously pleased to sign easement agreements totaling more than 60% of our project across all five states in our footprint. Reaching this milestone represents a significant step in advancing this critical investment and securing the future of the ethanol industry."
Through Summit Carbon Solutions' infrastructure investment, the company's ethanol and sustainable aviation plant partners will be able to sell their product at a premium in the growing number of markets that have adopted low carbon fuel standards. Access to these markets is critical to the long-term viability of the ethanol industry that today purchases approximately 40% of all the corn grown in the United States and remains a key driver of commodity prices and land values.
During construction, Summit Carbon Solutions will create more than 11,000 high-quality jobs and contribute $371 million in new federal, state, and local taxes. Once operational, the company will have more than 1,100 full-time team members and pay nearly $100 million in new taxes on an annual basis.
To learn more about Summit Carbon Solutions, please visit www.SummitCarbonSolutions.com.
###
About Summit Carbon Solutions: 
Summit Carbon Solutions is driving the future of agriculture by expanding economic opportunities for ethanol producers, strengthening the marketplace for Midwest-based farmers, and creating jobs. In developing the largest carbon capture and storage project in the world, the company seeks to lower greenhouse gas emissions by connecting industrial facilities via strategic infrastructure to store carbon dioxide safely and permanently in the Midwestern United States. For more information, visit: www.SummitCarbonSolutions.com.