A Political Action Committee cited earlier as having been involved in the campaign against Julie Frye-Mueller's suspension, as well as attacking her opponent in the prior primary, is apparently targeting Senators in their own neighborhoods in direct retaliation for their near unanimous vote to censure Frye-Mueller for her unbecoming conduct with an employee.
It was reported to me that over the last few days that this flyer has appeared in Legislative District 2, in the Brandon area, attacking State Senator Steve Kolbeck for his vote to censure Julie Frye Mueller for her highly inappropriate and comments on a Legislative Research Council's infant vaccinations and nursing habits: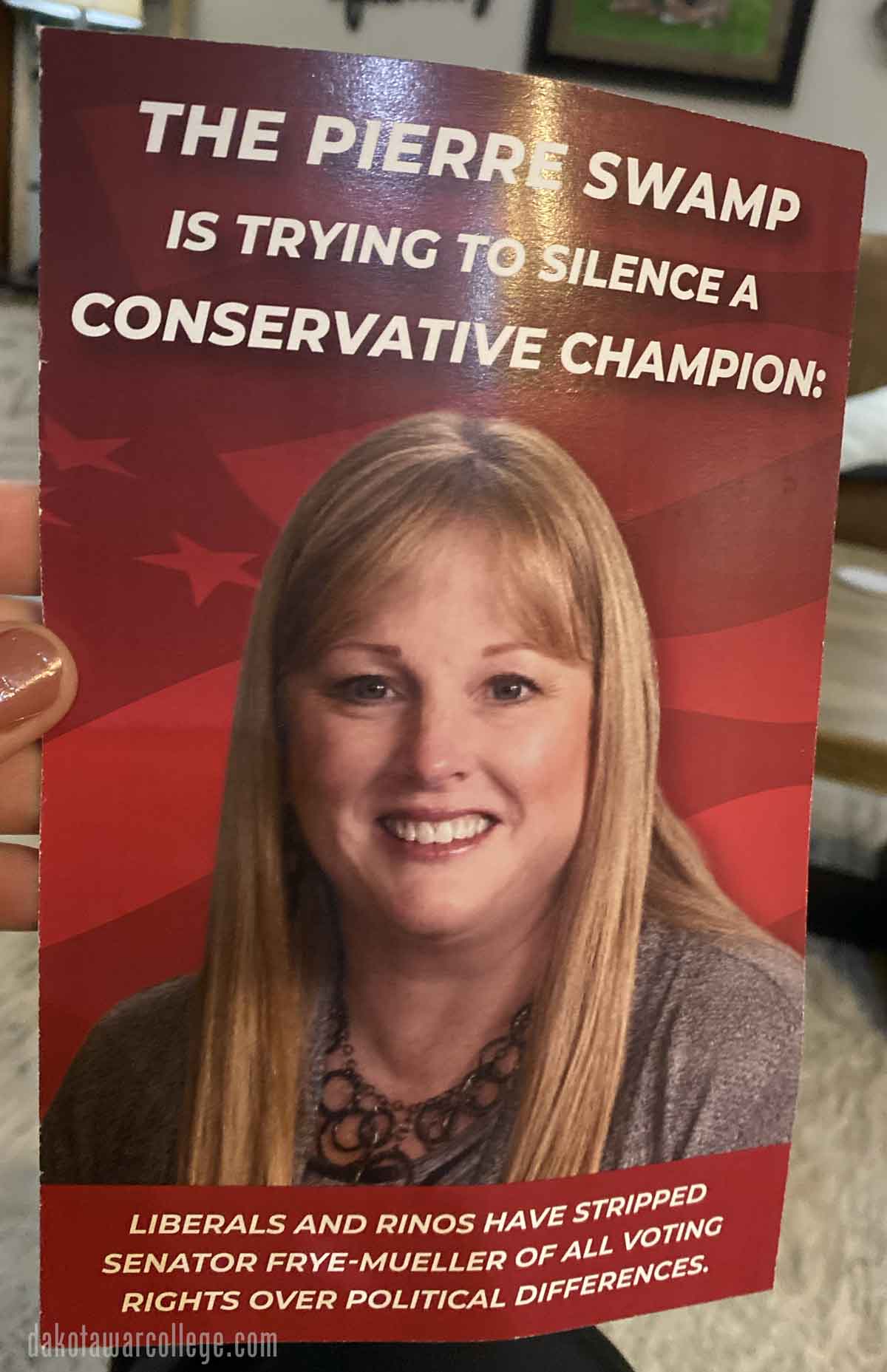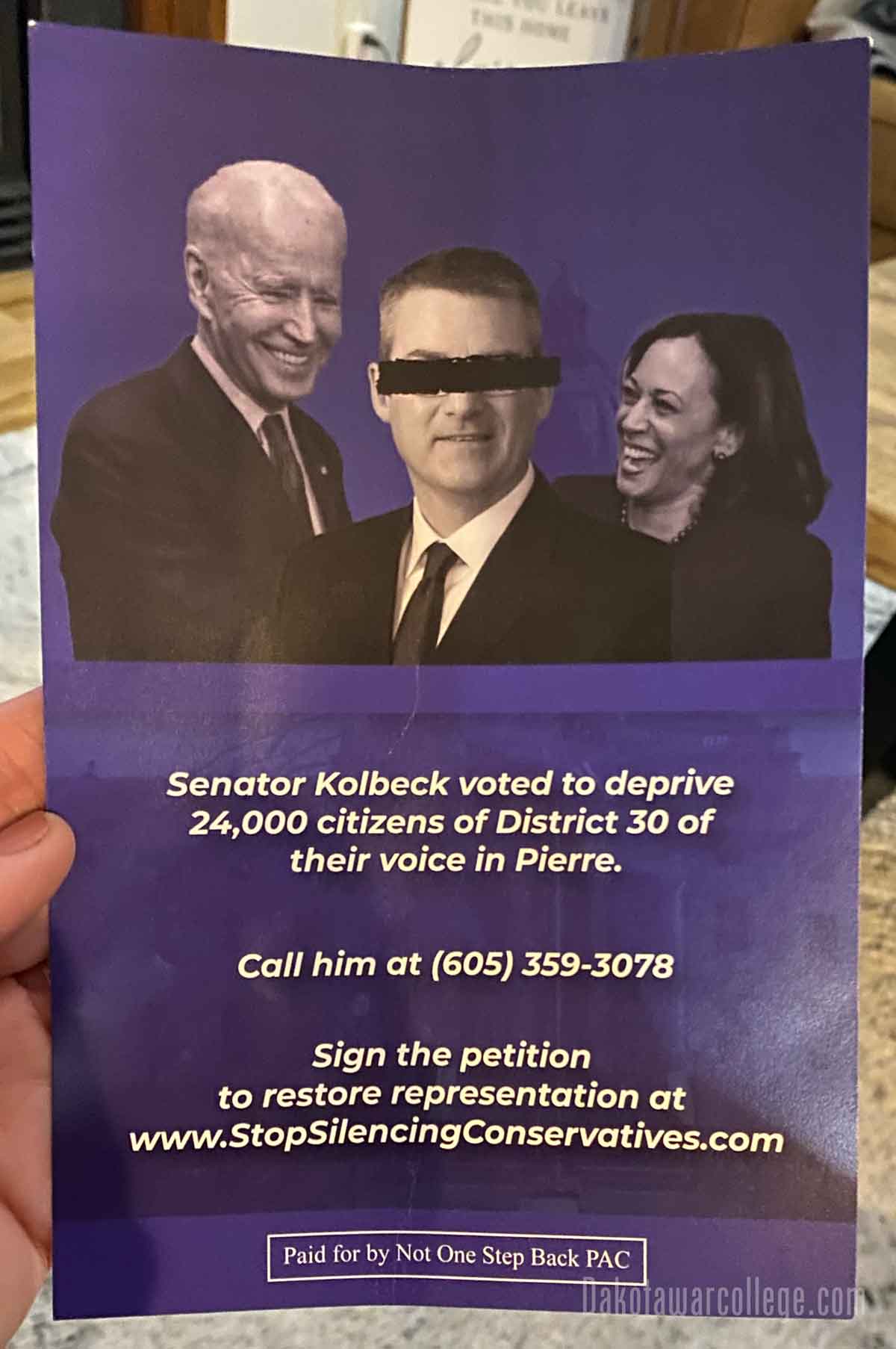 Claiming that "The Pierre Swamp Is Trying to Silence a Conservative Champion," the flyer provides the legislator's personal cell phone number, and superimposes his photo alongside that of Joe Biden and Kamala Harris, for voting to censure Senator Frye Mueller over accusations that Mueller made crude and sexually charged suggestions on how a young mother can initiate lactation. According to sources, a "strange car was putting them on specific houses" in at least one neighborhood in Brandon.
As noted in a previous post, the group backing this material is the Not One Step Back Political Action Committee.  According to Secretary of State Records, The "Not One Step" political action committee was started in 2021, as fronted by Anthony Mirzayants, who is noted as being the contact for the South Dakota School of Mines Young Americans for Liberty organization.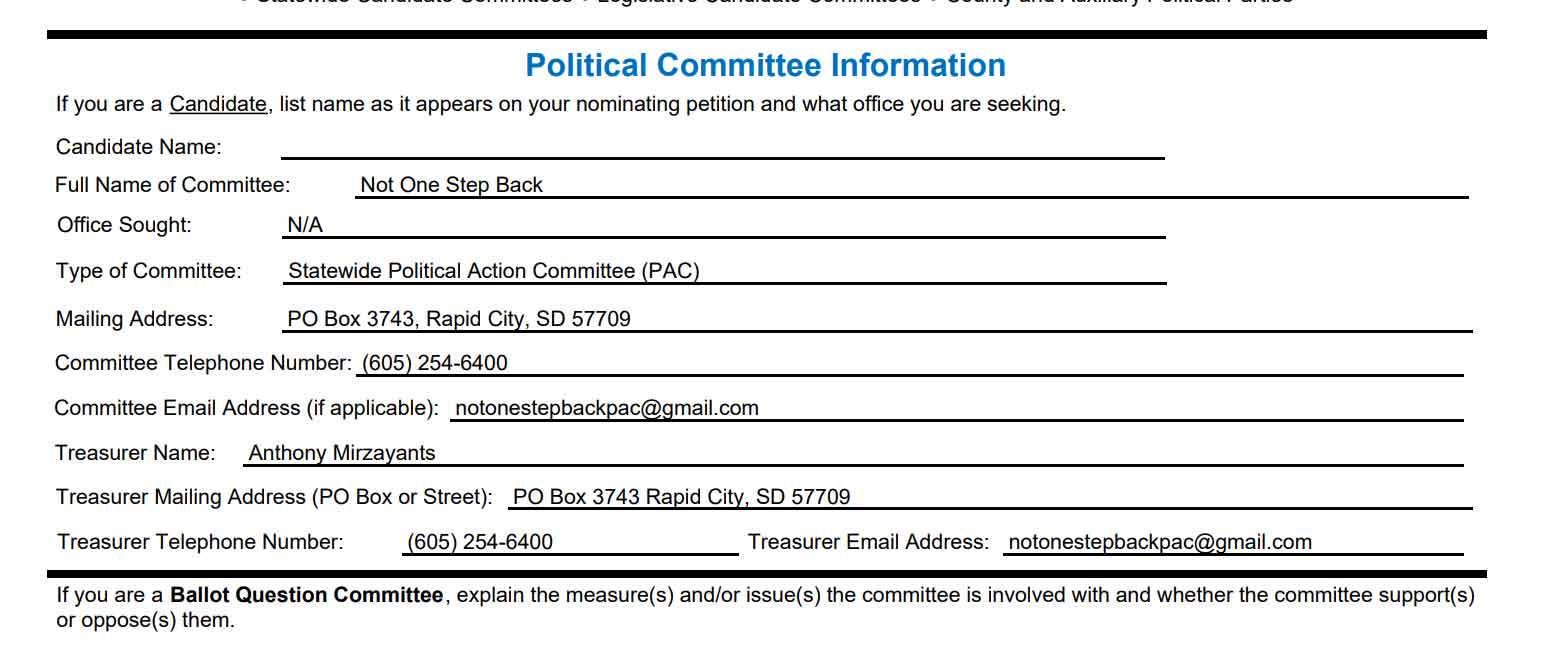 And in the last reports,  most of the funds for the Political Action Committee came from Anthony Mirzayants and Taffy Howard supporter Luke Blindert, with Freedom Caucus Director Jordan Mason also noted as contributing funds in the pre-primary reports.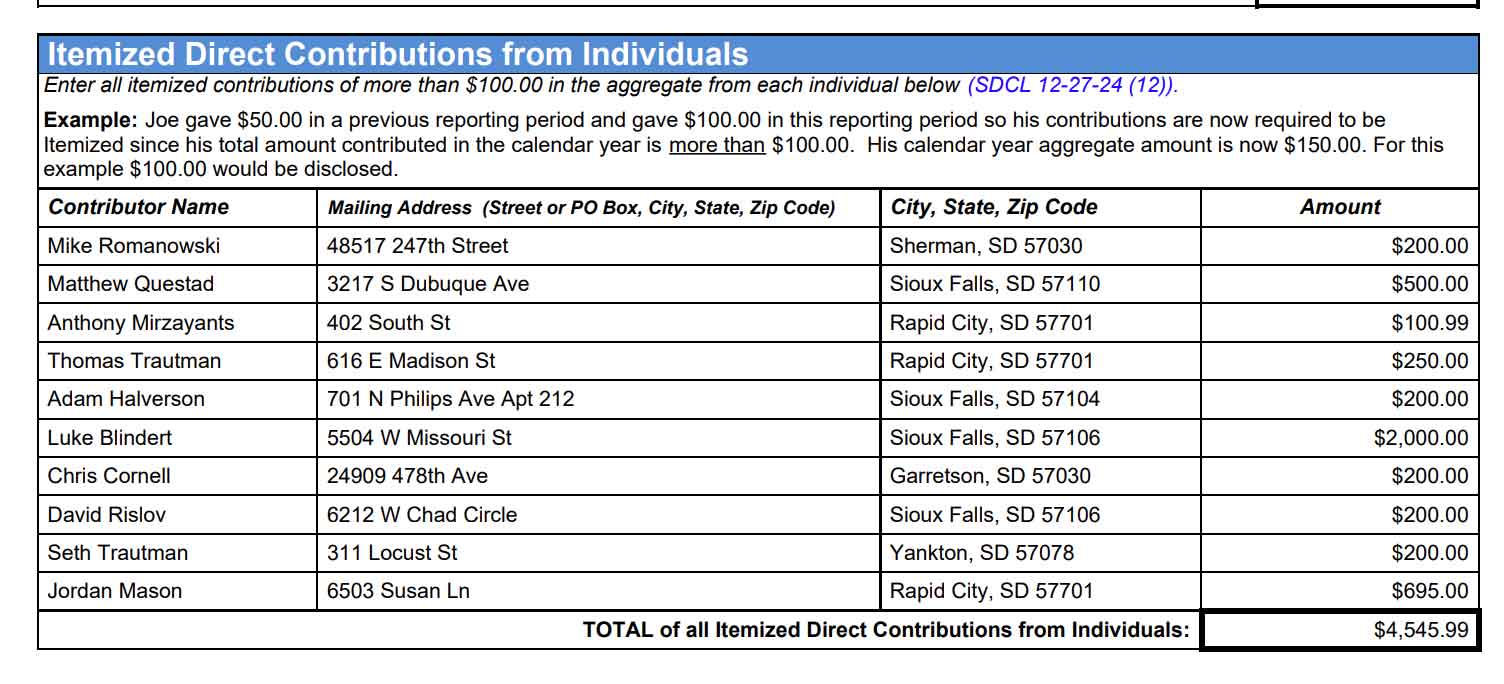 Previously, this same political action committee had been deeply involved with having made Independent Communications Expenditures in the Julie Frye Mueller/Tim Goodwin primary, spending thousands to go after Goodwin via postcards on COVID, Gun Rights and Spending:
You can read the original documents at the Secretary of State's website, or in my previous post on the topic here.
The materials curiously use the language that "Senator Kolbeck voted to deprive 24,000 citizens of District 30 of their voice in Pierre," referring to Frye-Mueller's suspension for three days. Which is kind of a pittance compare and easily refuted in comparison to the amount of times she has been reported as being absent from the legislative session, skipping 6 days in 2021, 5 days in 2022, and after her suspension ended, Frye Mueller immediately skipped her responsibility to those same 24,000 voters the very next day.
With Frye-Meuller's sycophants choosing to attacking legislators for the near-unanimous vote to censure her for her improper conduct with a Legislative Research Council employee, in what many were considering a done matter, is now setting up Frye-Mueller to extend the conflict.
With no allies in the body besides her seatmate Senator Tom Pischke, her lone vote of support, Frye-Mueller's allies may be trying to continue a battle that was done, and have her serving in a far more combative environment against her colleagues.