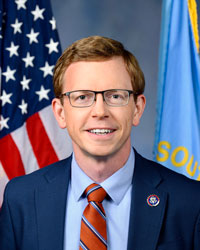 Preserving the Site of the Wounded Knee Massacre
By Rep. Dusty Johnson
May 19, 2023
In the late 1880s, a movement called the Ghost Dance swept across the nation. Indians believed that this dance would give stolen land back to them, bringing about a renewal of Native society. Indians would join together to dance for this renewal at the protest of the federal government.
On December 29th, 1890, a group of Lakota Indians led by Chief Spotted Elk made camp near Wounded Knee Creek on the Pine Ridge Indian Reservation in South Dakota. There, U.S. Army 7th Calvary troops were sent to disarm the Lakota. A struggle occurred between the U.S. Army and some of Chief Spotted Elk's band – a majority of which consisted of women and children. A shot rang out, and the U.S. Army opened fire on the largely unarmed group, tragically massacring an estimated 350-375 Lakota Indians.
The land where this massacre occurred had been held under private ownership for decades until September 2022, when both the Oglala Sioux Tribe and Cheyenne River Sioux Tribe jointly purchased the land. One month later, the tribes signed a covenant to ensure the land remains a memorial and sacred site without development.
The Wounded Knee Massacre is a dark stain on our nation's history. After working with both tribes for the last six months, I introduced the Wounded Knee Massacre Memorial and Sacred Site Act to honor and remember the lives lost. The bill would place the land purchased by the tribes into restricted fee status, similar to a trust, so both tribes can continue to hold ownership, prevent the land from being taxed, and protect it from development for generations to come. Once given restricted fee status, the land would not be able to be sold without consent of both tribes and Congress.
The section of land is forty acres located on the Pine Ridge Indian Reservation. My bill will make sure the tribes have the opportunity to protect the land as sacred and retain the sovereignty to maintain the land. It was and always is an honor to work with the tribes, striving to being a more perfect union.
###