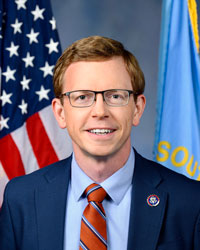 On the Road Again
By Rep. Dusty Johnson
August 31, 2023
August has been a busy month! Every year, Congress has an extended "district work period." It's a time where members of Congress stop traveling back and forth to Washington and spend August in their home state to attend events or much-needed meetings, visit with constituents at fairs, sit down with business owners and community leaders, and host town halls. This time in the state helps us hear firsthand what is happening in communities big and small. Some may see August as a break from Congress doing their work, but it is filled with important meetings across the state to connect with South Dakotans.
I've been all across the state, from Hot Springs to Webster, North Sioux City to Newell—it's easy to say I've spent a lot of time in the car. A day in each town is jam packed with events. One of my favorites is celebrating South Dakota agriculture at Dakotafest. I shared an update on the Farm Bill during South Dakota Farm Bureau's Congressional forum, served lunch, and met producers from across the state who work hard day in and day out to provide quality products for Americans.
This August, I've hosted several Vietnam veteran pinning ceremonies, giving Vietnam veterans a proper thank you and welcome home. More than 100 Vietnam veterans have gathered at these ceremonies, bringing the total number of Vietnam veterans I have honored to almost 900 since I started the program in 2019.
At the beginning of the month, I spoke at the Naturalization Ceremony in Sioux Falls. It was a privilege to congratulate new citizens on completing the citizenship process. These individuals bring unique talents to our state and I'm grateful for their decision to call South Dakota, and America, home.
I've met with dozens of business leaders, community leaders, students, and health care workers. They keep me updated on what is going on in each community, any needs they have, and progress on community and business improvements.
The time I spend going from town to town allows me to best represent you in Washington D.C. – I'm looking forward to a productive fall when Congress is back in session.
###