There was a press release from the so-called Freedom Caucus earlier this week that didn't really seem related to freedom as I've heard it defined.
What they were seeking attention for was about going after South Dakota Libraries, because the national library association is pushing some ideas they don't like, so they want to stop "collaboration with organizations deemed inappropriate."  Or at least, collaboration with organizations that they deem inappropriate, as they believe themselves to be the umpires of what's acceptable and not acceptable in society.
In their release, the Free-dumbers are going after South Dakota libraries in collaboration with several groups/co-conspirators that they identify in a letter including street evangelist Matthew Monfore, "Toni" Weaver with Citizens for Liberty (who needs little introduction), and Elkton election conspiracist Rick Weible.
Seriously? These nanny-staters think they are qualified to be the arbiters of what people should be reading in our libraries and want to be the censors what people should expose themselves to?  Are they kidding? When he's not getting kicked off the rez for distributing hate materials, Matthew Monfore's sense of oppressive and smothering evangelism has had him in the past harassing women in bathing suits in public beaches as being immoral.
And with Elkton resident Rick Weible, his latest cause has ginned up some opposition locally here in Brookings as he leads a book burning movement as described in this flyer making the rounds on Facebook: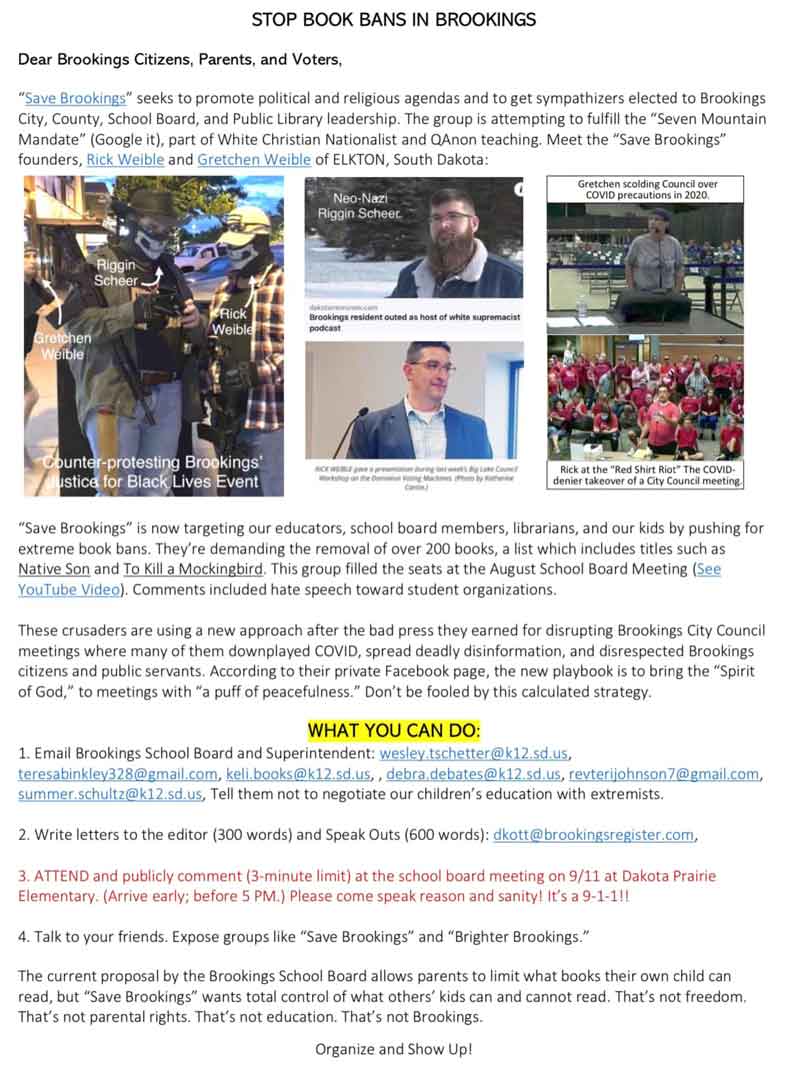 The group behind this anonymous flyer opposing Weible's book burning effort seems to have drawn their line in the sand at the September 11 Brookings School Board meeting, and is encouraging Brookings residents to show up en masse to oppose the group pushing for the book bans.  While both sides are given to hyperbolae, the group opposing book bans does have a point.
When people such as Weible wants to organize the removal of "To Kill a Mockingbird" and "the Diary of Anne Frank" (yes, they are on his list) from school libraries, people should be concerned.  Because they are substituting their own judgment for ours as parents. Maybe, as in To Kill a Mockingbird, it's a proper lesson to teaching good versus evil, and the value of justice.  Or as is found in the Diary of Anne Frank, living and hiding under an oppressive regime (who also burned books), that the Director of the Holocaust Museum cited the lesson as tracing the author's "emotional growth amid adversity."
Ultimately, as the parent of a child in the school, if there is something I object to, I consider it MY JOB to determine what might be appropriate or inappropriate for my child. It's called being a parent. And guess what? I refuse to abdicate that role to a group of nanny-state zealots any more than I would abdicate that role to the school.
Having the ability to determine myself what is appropriate for my child.  That seems to be a lot closer to the definition of freedom as it has been taught to me than the "big government freedom" some want to impose on South Dakotans.
If these groups claim to be actual advocates for Freedom, maybe they should actually trust people to judge for themselves, and for parents to be parents.
Unless they're not about freedom, and just want to tell people what to do.