The Brookings/Moody County Lincoln Day Dinner was this past weekend. It has been a few years sine I've gone, so I actually attended. I had a nice invitation to join a friends' table, and I didn't have COVID, or any out of town trips.. I think I missed two of those because of Florida one year, and driving my son to go to the navy last year..  So, everything old was new again as I listened to the speakers, and said "Hi" to many people I don't get to see because I never leave my basement office.
I also took in some of the things that struck me as odd, because it's a Lincoln Day Dinner, and there's always those unscripted things and interactions.
I think the winner of the night were the College Republicans, who had a great raffle. I wanted the SDSU planter, and I completely missed the meat bundles. Agh. I should have bought more tickets.
Otherwise a nice program. The highlights for the speakers were Senator and Chairman of the SDGOP John Wiik as the Master of Ceremonies and main speaker was Congressman Dusty Johnson.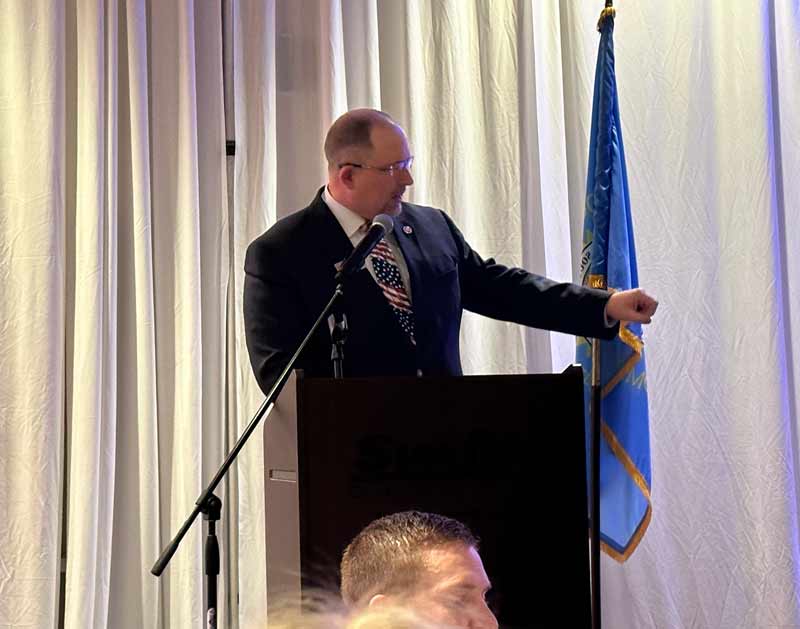 Dusty largely hit on the budget deficit, and upcoming battle over funding the budget in light of deficit spending..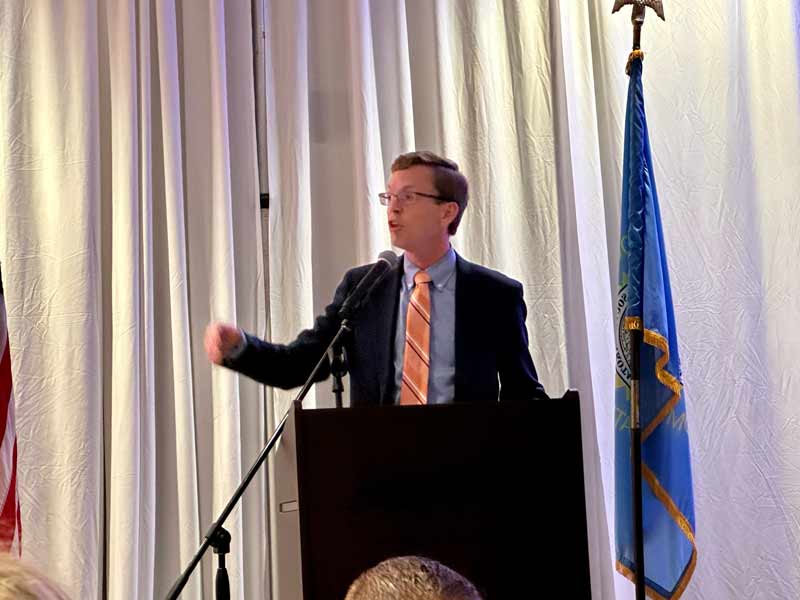 Dusty had to head out, so he actually spoke before legislators..
From where I was sitting, most of my photos ended up with people getting a microphone in their face..  This one of State Rep. Roger DeGroot was ok…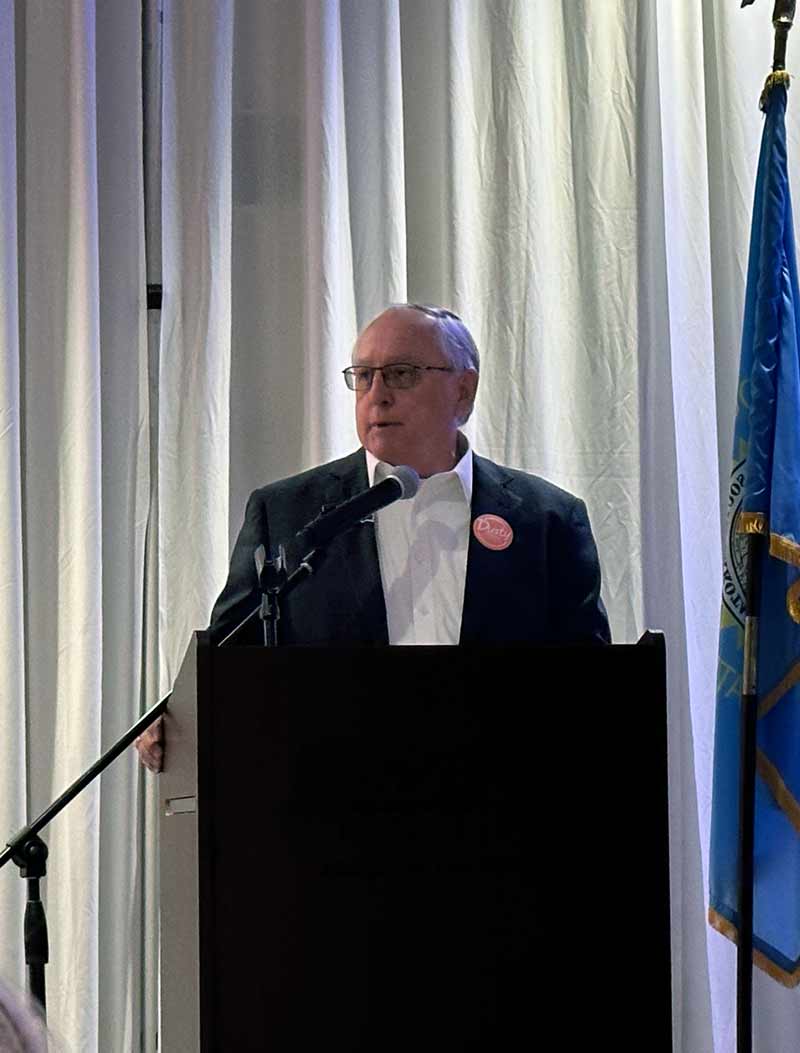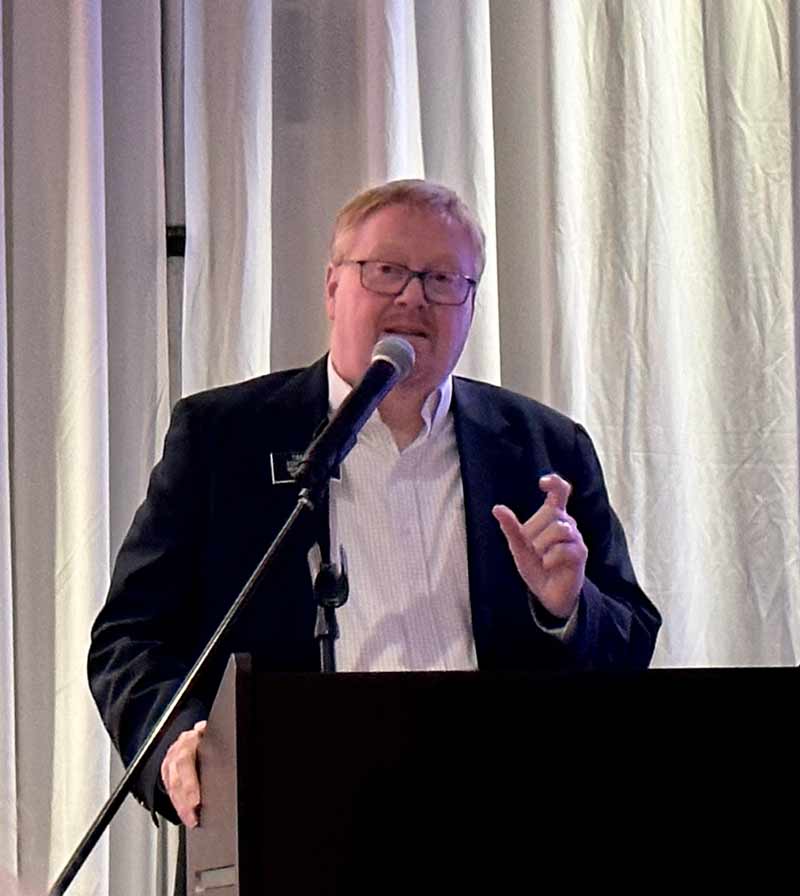 And this one of Senator Tim Reed was borderline sort-of ok, but it went downhill from here as none of the rest of the pictures were worth a darn, and everyone ended up with "microphone face."  Sorry. I was just at a bad angle.
Lots of nice speeches from the Legislators from District 7 and 8 representing Brookings County, explaining what they did during session, and how new legislation and projects would benefit the area.  Shout out to newly minted Truman Scholar Caleb Weiland who substituted for Senator Casey Crabtree who had a conflict for an event he had to attend to his wife. ("Happy wife, happy life," or so as my wife claims.)
For Moody County, the legislators for District 25 spoke. Randy Gross offered his comments, and encouraged everyone to partake in the ice cream he arranged to be donated, which was much appreciated.
District 25 State Rep. Jon Hansen used his time not to tell constituents about what he did during session, but to shill for his ballot committee.  And surprisingly, Senator Tom Pischke tried to address what he did during session, but kind of skipped over his voting to keep convicted rapists in classrooms, or about trying to have his fellow Republican Senators arrested for their Frye-Mueller vote. He also chose to omit his dis-invitation to the Senate Republican Caucus.
Speaking of deplorables, one of the things that got a little chatter during the evening was that outgoing Brookings School Superintendent Klint Willert attended the dinner. This comes after his "resign or be fired" ultimatum from the Brookings School Board, which the District's attorney detailed point by point. Interestingly, the soon-to-be ex-superintendent shared a table with the aforementioned Senator Pischke, Representative Hansen, and unsuccessful legislative candidate Cole Heisey of Sioux Falls.
I'll just stop there.
I did notice an ad in the program for a new group that drew my attention..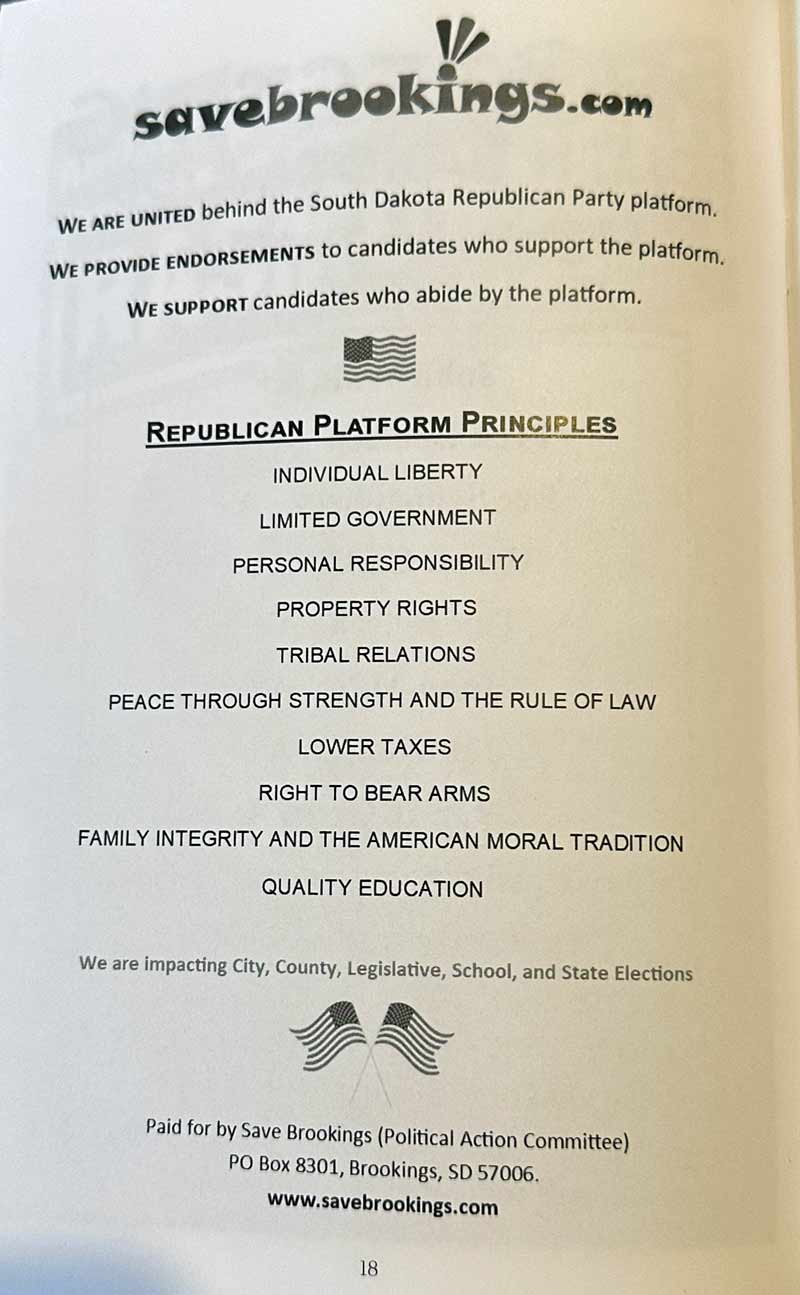 It was an ad for the "Save Brookings" political action committee, with the ad letting everyone know that they are going to be endorsing candidates that support the Republican platform. At least the platform according to them.
I hadn't heard of this group before, so who is behind it?
According to the Secretary of State, apparently this group was set up by Rick Weible of Elkton earlier this month to "support conservative issues and candidates in Brookings South Dakota."  We'll see how long this lasts. Maybe someone can explain why we need a recent Minnesota transplant to Elkton to save Brookings?  Or, why would I send money to Elkton to save Brookings?
Have you been to Elkton? I've been to Elkton. I think Elkton could use a little saving before the home of the State's largest university does.  But that's just me.
As my daughter Sydney would say, "Peace out" until the next Lincoln Day Dinner comes around.